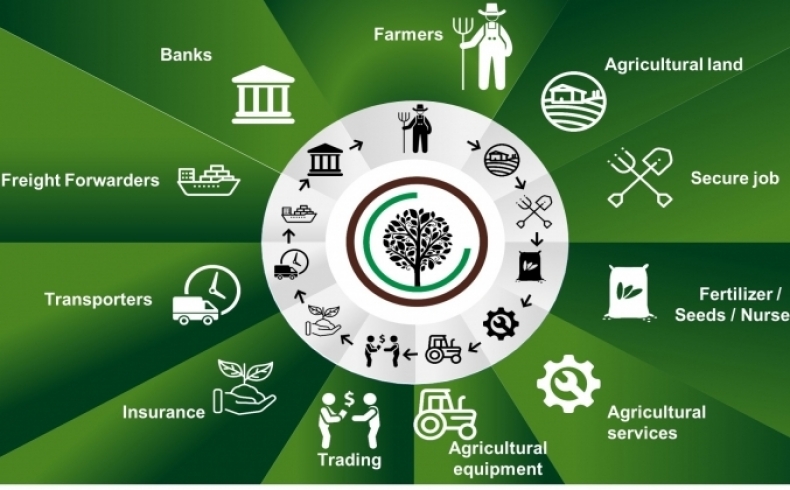 Moldavian branch of Altiad - AgroPlace SRL is in charge of AgroBourse 360 SI implementation in Moldova.
• How it works:
- Traders of Agro Place are tasked with purchasing of agricultural products from Moldavian producers;
- The purchased agricultural products are then consolidated, sorted, and packaged, according to the Purchasing Central requirements;
- Upon the completion of the "production" stage, an Agro Place Trader will set up and manage all necessary arrangements associated with transportation and logistics for every established destination;
- Purchased products will then be transported from the Hub of Agro Place to the respective Purchasing Central located in Moldova, Eastern Europe, Africa, the Middle East or to any other Purchasing Central that has a valid purchasing contract with Agro Place.
• Revolutionary aspect:
This revolutionary method of produce trade and distribution is based on an innovative business model and a state-of-the-art digitalized online platform.
Over the past decades, we have all witnessed the rise of global success of such effective platforms as Amazon, AirBnB, and Uber. To this end, we believe strongly in returning the learning into our field and respective markets, eliminating intermediary spending on the margin distribution. The cost of the "middle guy" which was traditionally included in the process as a necessary evil, adding no value to the production cycle, will no longer be a factor. The time has come to re-structure the agricultural market and establish more fair prices and margin distribution. This is one of the most essential strategic goals of the AgroBourse solution, as well as a wide range of socio-economic benefits to be shared with local producers.
What crops we are trading with in 2019:
For the first year Agro Place trades the following crops:
- Apples;
- Table grapes;
- Nuts;
- Rose hip;
- Frozen fruits;
- Prunes and dried fruits;
- Sunflower oil.
Starting from 2020, this list will be expanded.
Don't hesitate to contact us:
tel: +37360 12 99 91 • mail : contact-moldova@agrobourse.com • sait : www.agrobourse.com
adress: Mitropolit Dosoftei 102-40, Chisinau MD-2012, Moldova • FB: Agrobourse 360 S.I. MD