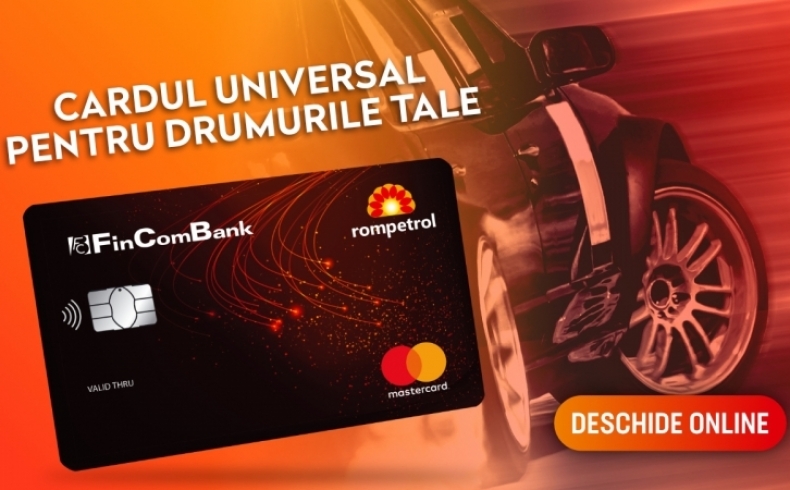 FinComBank S.A. has launched the most expected product of this year for drivers and not only, the Mastercard FinComBank & Rompetrol card. Now you can find in one card:
FUEL DISCOUNTS
CASHBACK ON CARD every week
CREDIT LIMIT for fuel and shopping!
Get the road under control! Get DISCOUNT FOR FUEL at the Rompetrol gas stations throughout the country. You don't need to explain anything to the salesman at the gas station, the card will do it for you! Refuel your car and get an instant discount, when you pay with the Mastercard FinComBank & Rompetrol card.
MasterCard FinComBank & Rompetrol is more than just a fuel card. Weekly get 1% CASHBACK on the card for any purchases in the country's stores and Internet purchases.
You have a CREDIT LIMIT on your card for any unexpected situation. Buy what you want, refuel your car, even when there is no money left. Now you always have a card in your wallet for unplanned refueling and shopping, simply called a card for shopping! If you would like, you can open the card with or without a Credit limit (in the amount of 1.000 MDL, with the possibility of increasing the credit limit up to 150.000 MDL).
Because we know how much your time is worth, you will be able to open the Mastercard FinComBank & Rompetrol l card ONLINE in just a few clicks on any device! The card issuance сosts 45 MDL, and the monthly service is only 10 MDL.
Moreover, you have the additional privileges of the Premium Card:
     Enjoy the global travel privileges, such as discounts and special offers all over the world.
     Feel comfortable while traveling, because you have access to the exclusive business lounges Mastercard Lounge located at the selected airports around the world!
With Mastercard FinComBank & Rompetrol card:
You have access to your financial situation 24/7 from any gadget, moreover the connection and the administration of the Internet Banking FinComPay are free;
Pay the utilities, taxes and other invoices online in just a few clicks;
Transfer money from card to card with P2P service anywhere in the country or the world;
Receive for free the international money transfers from relatives and friends directly to the card, using the T2C service;
Now any ATM near your house or office is a FinComBank's ATM. Tree times per month you get for free cash withdrawals at FinComBank's ATMs, and three times more at ATMs of other banks in the country.
Do not miss the opportunity to become one of the first owners of an exclusive product in Moldova - Mastercard FinComBank & Rompetrol card!
Please contact us for more information:
Tel. (+ 373-22) 26-99-99
Email: fincom@fincombank.com
website: www.fincombank.cоm