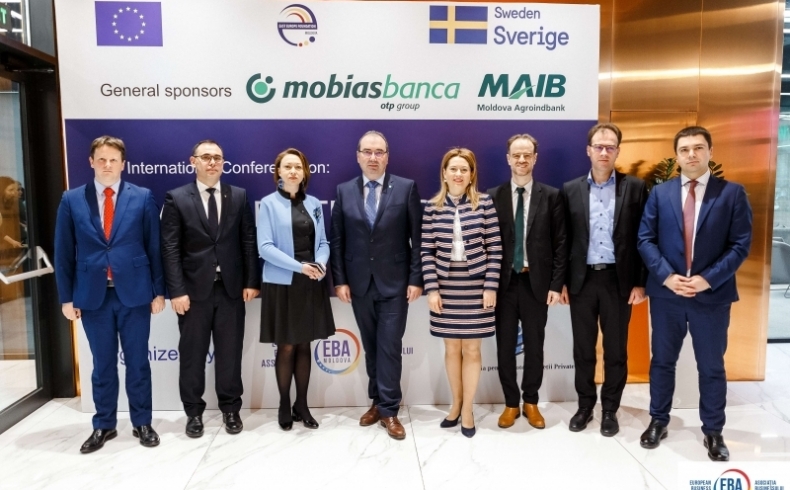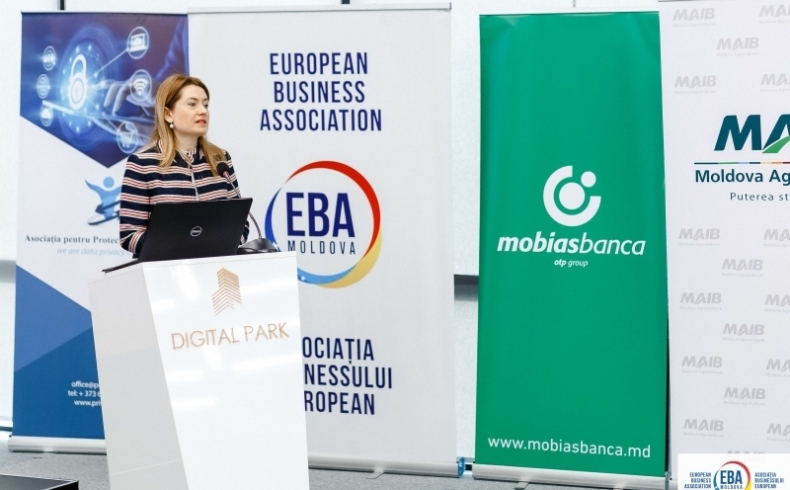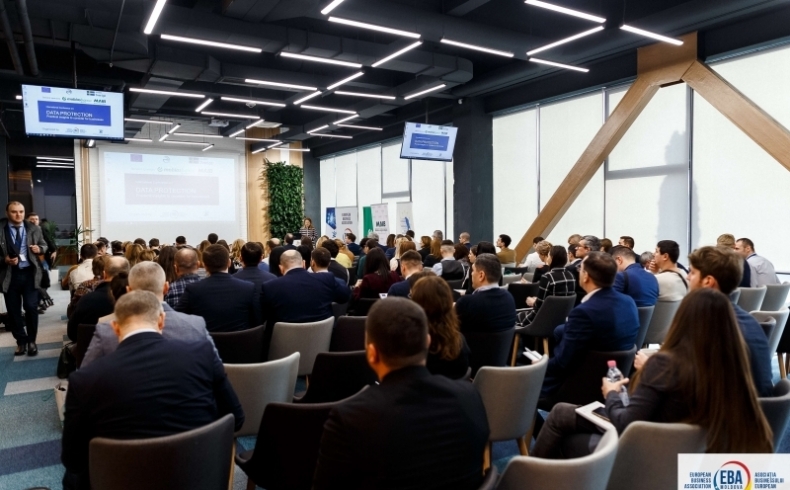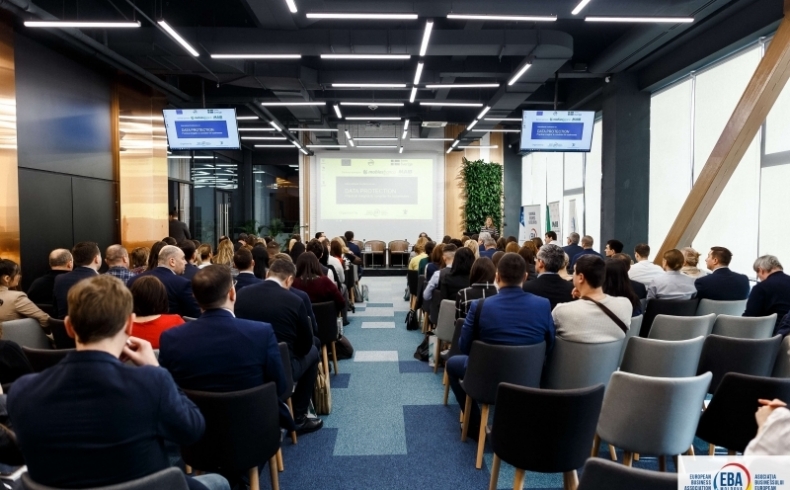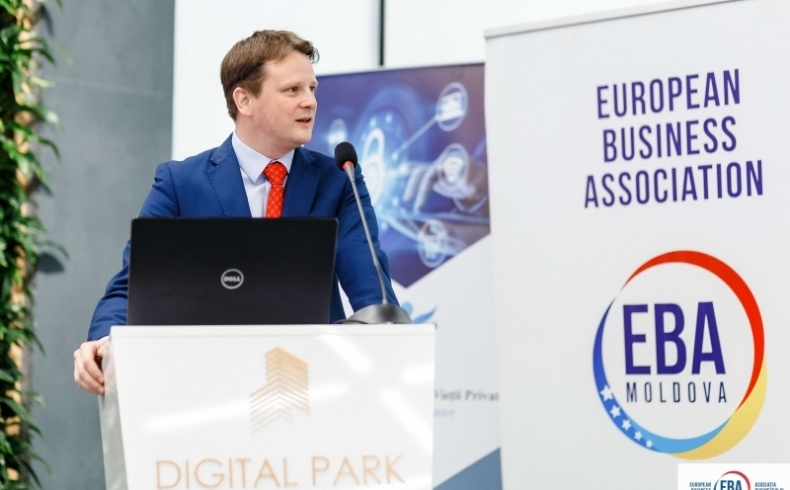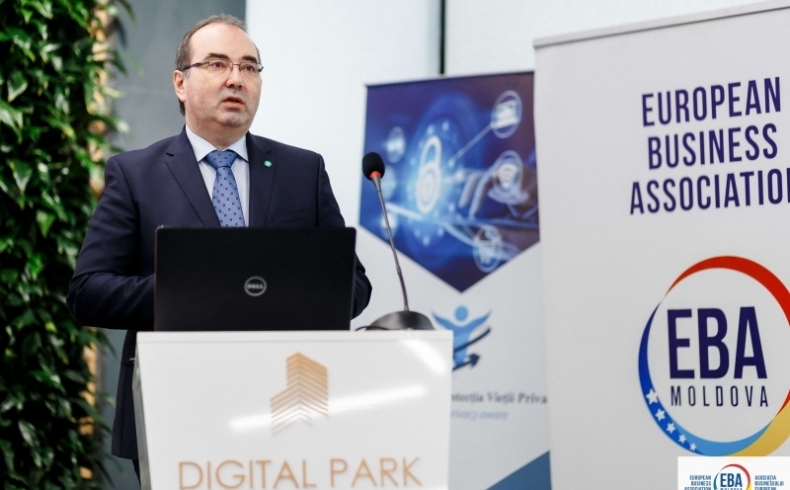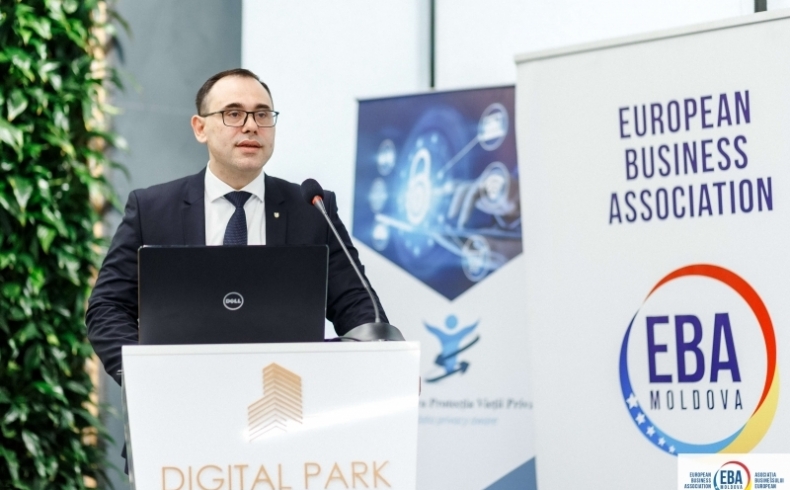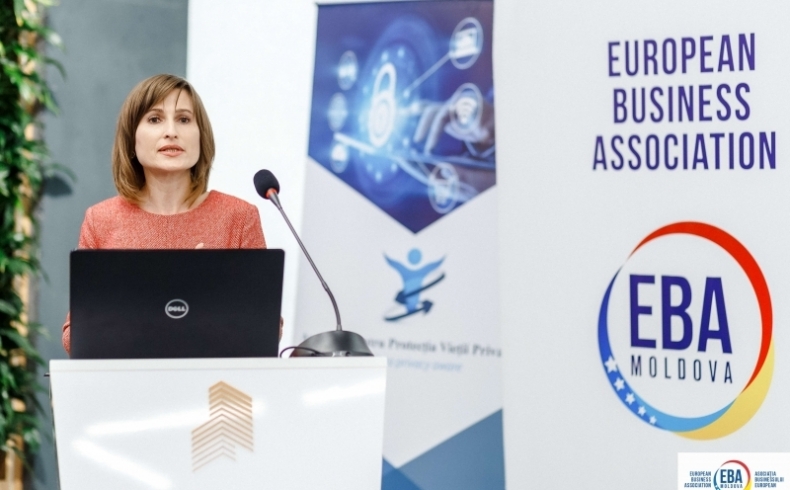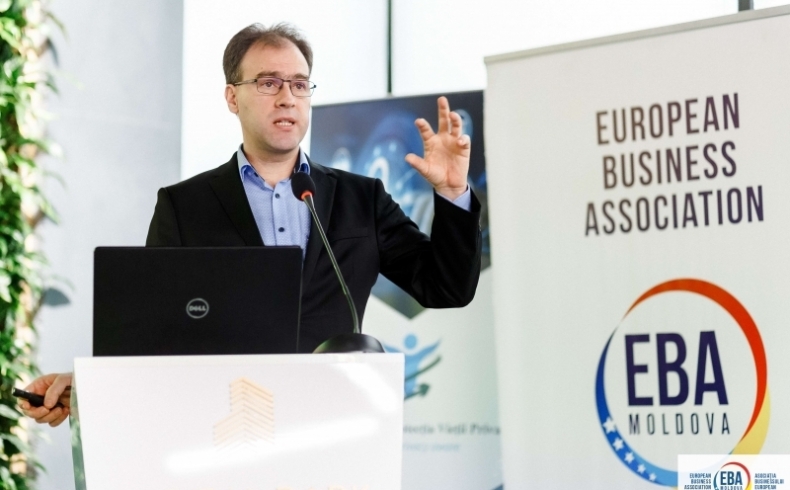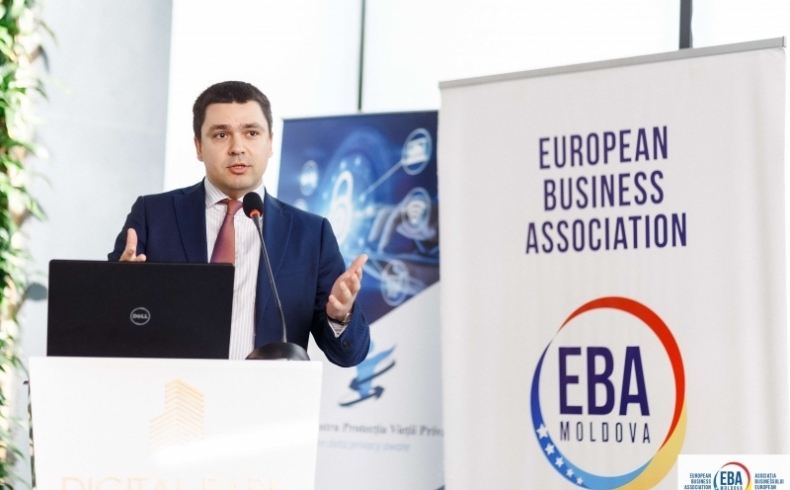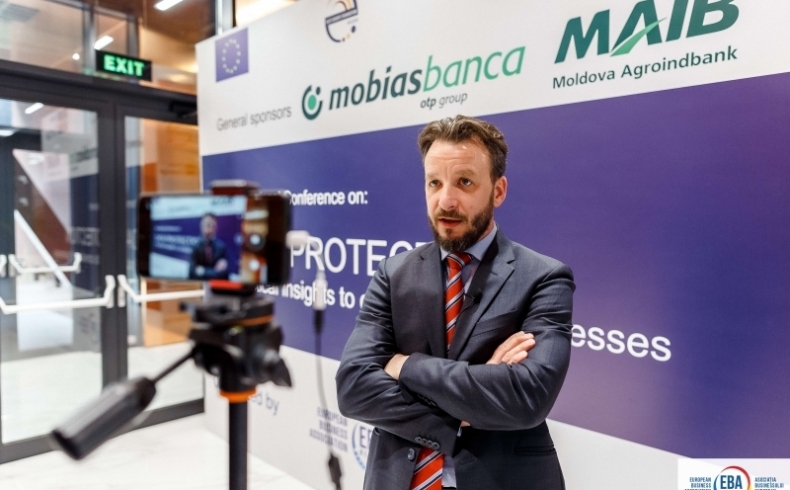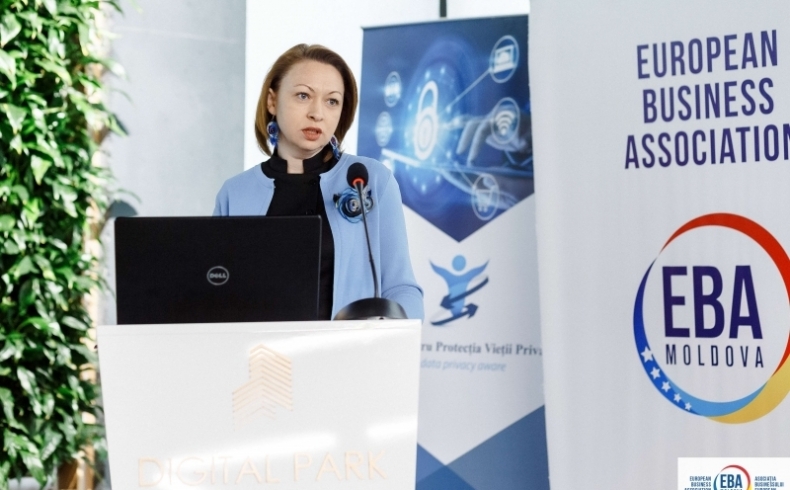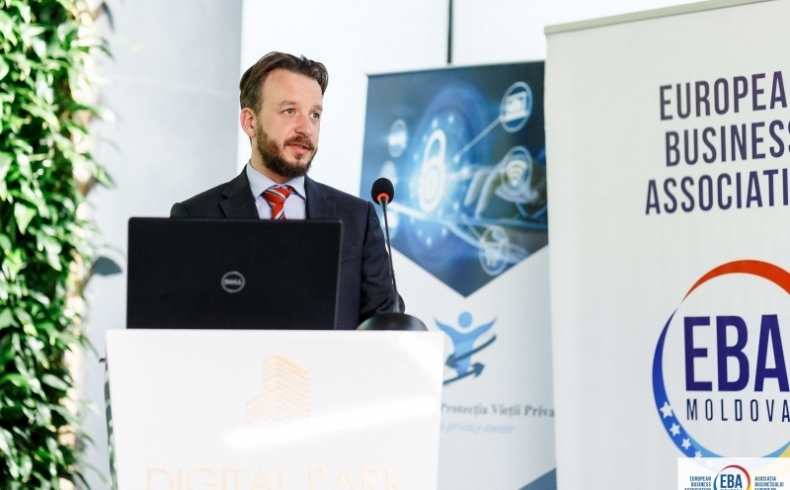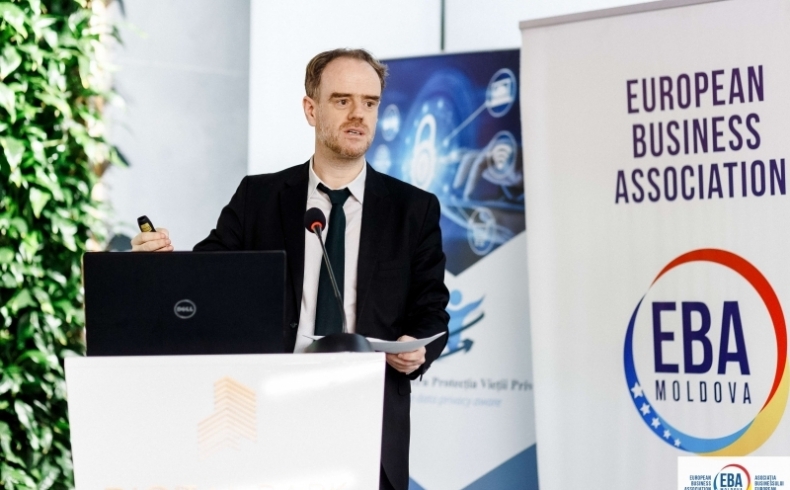 On 4th of February, EBA Moldova in cooperation with Association for the Protection of Private Life organized the International Conference on Personal Data Protection – Practical insights to consider for businesses.
The goal of the event was to share best practices in the context of the transposition of European legislation in the field of GDPR in all sectors of public-private activity. The Conference brought together practitioners, DPOs, legal experts, representing international companies and tackled upon practical issues related to the protection of personal data implemented by state institutions (from Moldova and Romania) and the private sector, represented by data protection officers within the banking system and the European multinational companies from the retail, health and telecommunications sectors.
The agenda involved such speakers like Mr. Catalin – Aurel Giulescu, Ministry of Internal Affairs from Romania, Mr. Zoard Gazmar, Head of Compliance from OTP Bank Hungary, Mr. Tamas Fischer, Magyar Telekom Hungary, GDPR Program Lead, Mr. Sergiu Bozianu, President of the Association for the Protection of Private Life, and other. International Companies DPOs present at the event presented practical solutions in the four sectors like retail, banking, health and telecom in terms of GDPR internal related procedures and policies. The practical examples have to feed the legal harmonization process.
Zoárd Gázmár, OTP Bank Hungary:
"In our case it was a big challenge to adopt GDPR because we are a large organization, with thousands of employees, millions of customers. Here we had to change the course of things in the company, to involve many departments, in order to comply with the GDPR"
Cătălin Aurel Giulescu, Ministry of Internal Affairs, Romania:
"We have some misconceptions about personal data. For example, the consent cannot legitimize any kind of processing of personal data. It does not have a place here. It is important to refer to legal grounds."
Interviews from the international speakers and organizers, on GDPR and the event, can be visualized here:
https://agora.md/stiri/66510/o-mare-parte-din-prevederile-gdpr-vor-fi-fi-aplicate-si-in-moldova--de-ce-trebuie-sa-tina-cont-companiile-si-autoritatile-video?fbclid=IwAR0xGxLL2zxWPogPGB4Ahp3R3YF6XfQgQJHdNcmy4fsW9rQXPkyMLO-PFp4
http://tvrmoldova.md/ro/actualitate/legislatia-in-domeniul-protectiei-datelor-cu-caracter-personal-va-fi-modificata-au-fost-constatate-abuzuri-la-colectarea-unor-astfel-de-date?fbclid=IwAR1IFaCvjNxRC5vAtQkKCPmlj0sTf8i3XpISCduucikRb4oiW2EAnjqigVk