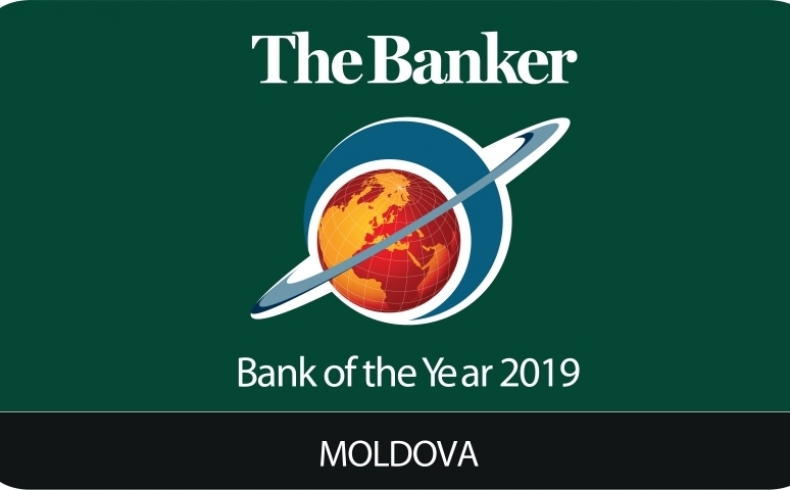 The Banker, an international landmark publication for the banking industry, has welcomed back Moldova's banking sector onto its Best Banks ranking after a five-year break.
Moldova Agroindbank is the only Moldovan bank to make it to this international top of the strongest commercial banks, being awarded the title of the Best Bank in Moldova in 2019.
The Banker's judges pointed out that MAIB is "the standard bearer of a sector that is evolving for the better".
It also praised MAIB's efforts to "substantially strengthen its anti-money-laundering (AML) procedures by introducing an internationally recognised, online AML system […]. The publication noted that this "positions MAIB as a market leader with respect to AML and compliance issues".
The award also comes as an international recognition of MAIB's achievements in digital transformation, with The Banker saying that "the launch of the mobile banking app MAIBank has been a notable success". The Banker's judges were impressed by the strength of digital transformation efforts across the globe and at how banks are using the squeeze on net interest margins to improve efficiency and move their institutions into a new era.
"MAIB's come-back to The Banker's top is an achievement of Moldova's banking sector above all, and Moldova Agroindbank is glad to bring back, due to its institutional performance, the name of the country on one of the most competitive and powerful international rankings of commercial banks. This reconfirms and steps up MAIB's position of a leading bank, having a dynamic development and which is a pioneer on the market largely due to its client-based and digitally-focused strategy," Serghei Cebotari, Chairman of the Executive Committee of Moldova Agroindbank, has said.
The Banker's award is the third international award won by Moldova Agroindbank in 2019, the other two coming from Global Finance and Global Banking&Finance Review, which reconfirmed MAIB's excellency and stability.
This year, The Banker gave awards in 138 countries, six regional awards, the top prize for the best bank in the world, as well as an award for banking in the community and one for financial inclusion.