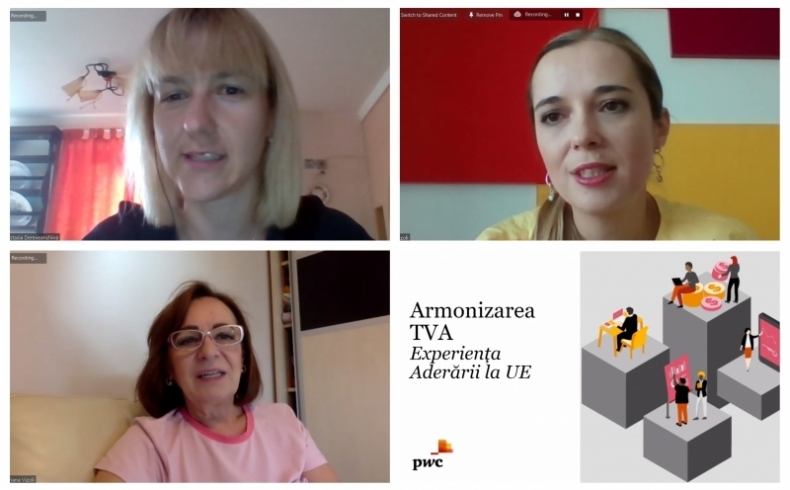 On 9th of September, EBA in cooperation with PwC Moldova organized the Webinar within the Expert Talk Program: Bridges with Romania: Practical experience in VAT EU Directive harmonization.
One of the strategic objectives of the foreign and domestic policy of the Republic of Moldova is European integration. The gradual harmonization of tax law and practices with European Union (EU) practices is also a requirement of the Deep and Comprehensive Free Trade Agreement (DCFTA). Moldova is expected to improve and develop its tax system and administration, including the harmonization of the legislation in the indirect taxes with the provisions of the Council Directive 2006/112/EC of 28 November 2006 on the common system of value added tax (EU VAT Directive).
However, amendment of the national legislative text in full compliance is not necessarily a recommended approach under the Directive, the latter containing options and alternative possibilities to be applied. Therefore it is very important to clearly identify from the very beginning the possible options Moldova may choose, leveraging the "lessons-learned" of the countries that already have experienced a similar process.
The workshop organized by EBA Moldova with support of PwC highlighted the main lessons learned by Romania during VAT harmonization process, both, from the perspective of the business and the state authorities. The special guest, Mariana Vizoli, who coordinated the process of the Romanian VAT harmonization, will bring useful practical insights.
Speakers: 
Adina Vizoli-Alexandru - Director PwC Romania, Indirect Tax, Chartered Tax Advisor.
Adina Vizoli has over 15 years of experience in national and international projects in the field of professional services. She specializes in the field of indirect taxes, aspects related to value added tax, impact analyzes focused on the VAT application regime at national and European Union level, solutions for streamlining the application of taxes, customer assistance to Romanian tax authorities in inspections tax audit procedures.
Anastasia Dereveanchina - Senior Manager PwC Moldova, Lead of Tax & Legal practice.
Mariana Vizoli - Independent Tax Consultant. 
Mariana Vizoli had an 18-year career in the Ministry of Public Finance, where she held several positions, including Director, Deputy Director General, Director General of the General Directorate of Legislation, Fiscal Code and Customs Regulations and Secretary of State for Fiscal Issues. During the pre-accession period, she coordinated the working group from the Ministry of Public Finance, which elaborated the Position Paper - Taxation - VAT, in order to align the national legislation in the field of VAT with the EU acquis. Subsequently, she coordinated two projects financed from PHARE funds, the first one aiming at the transposition into national legislation of the EU directives in the field of VAT starting with the date of accession.