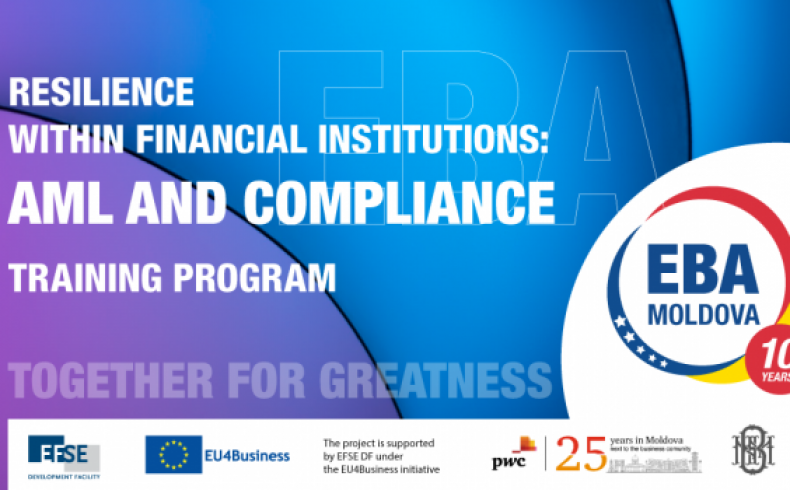 EBA in partnership with National Bank of Moldova are organizing the "Resilience within Financial Institutions: The AML Training Program".
The program is supported by EFSE DF under the EU4Business initiative and PwC Moldova.
Anti-Money Laundering is a top priority for the financial sector and the level of vigilance required to prevent laundering is growing by the day. Increasing AML and Compliance regulations and laws are challenging every industry, while the banking and finance industry, in particular, is being affected by compliance laws and is under more scrutiny. To implement a robust Compliance AML/CFT Regime and fight money laundering effectively, is important to create awareness among the financial institutions and train the staff on anti-money laundering matters.
The purpose of the Resilience within Financial Institutions: The AML Training Programis to enhance the AML and Compliance competencies and the overall level of expertise in the financial sector of both banks and non-banking credit organisations. The main objectives of the program are:
-        Enhance the AML and overall compliance knowledge of financial institutions employees;
-        Sharing the best international practices and;
-        Presenting the recent amendments to the Compliance AML/CFT framework (both EU/ International and National legal framework).
The program is structured in 8 Modules and will be conducted by trainers & experts with international and regional experience. The detailed Agenda as well as the profiles of the trainers are presented in the attached file.
Logistics:
The Training Program will take place on-line. Only registered participants will receive the link to the course.
Course timeline:23 November 2021 – 10 February 2022, 9.30 – 13.00.
Participation fee: 150 Euro/person
Please confirm your interest, by 19th of November, to: