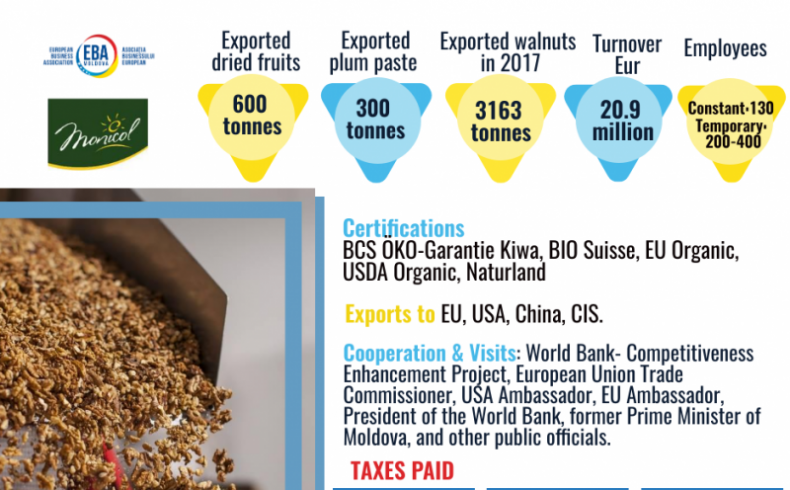 The production and the export of walnuts and nut products is a strategic area of activity in Moldova, as the demand for walnuts worldwide is constantly increasing and Moldovan walnuts have successfully accessed the European market. Nevertheless, the situation regarding the purchase of walnuts and other horticultural products, especially from individuals at the moment is quite complicated in the RM which consecutively creates obstacles in the export of these products on the EU and world market.


With respect to the current situation regarding the export of Moldovan walnuts onto the EU and World Markets, the European Business Association was involved actively in abolishing the TBT and Non-Tariff barriers to trade so as the foreign trade becomes easier for all of the exporters. This happened by simplification of certain customs procedures and through certain changes in the Tax Policy. One of the EBA Members who joined the Association in 2012 is Monicol SRL and who was actively involved in all the reform processes, in making the export process onto the EU Market more transparent and clear for all the walnut exporters.


Monicol
 was established in 2001 and over the years has gained a reputable image, trust and recognition of its clients. The raw materials (nuts) are partially grown in company's orchards, the rest being purchased from other local small farmers. Orchards of plums constitute 100 ha, walnuts - 247 ha and hazelnuts - 60 ha. To obtain the highest quality Monicol uses modern technologies and equipment such as Sortex Buhler, Tomra, Taiho and others. Monicol carries the BSCI, IFS foods and BRC foods standards.
It is important to reiterate that Monicol is one of the biggest tax payer in the area of agro food production sector to the Moldovan budget.